WELCOME! Thanks so much for stopping by!
"I don't know what to call it--heart, clarity, vision, soul--but there is so much of it in Fran's songs that I cannot hear his voice without receiving more of these gifts myself."
 ~ Barbara Brown Taylor
WHAT'S HAPPENING ....
We've just successfully completed our very first AwakeningSoul virtual gathering!!  We are so fortunate to have assembled a great team of tech folks to help us master the switch to Zoom world; Carrie Graves, Rachel Watkins and Angelo Gianni (videographer). Kudos to them for their unflappable presence and tireless energy! Our presenters, Jen Bailey, Serene Jones, Brian McLaren, and our conversation host, Meaghan Kelly Brower, were all amazing. Given that we followed the election by just a couple of days, we went into it not knowing where we would be as a nation but hopeful that by Saturday night we would at least know that the Biden/Harris ticket would be successful and that we would be headed in a new direction. So it was to be, thankfully!
The AwakeningSoul Ensemble was down to four members this year due to the pandemic - Lindsey Blount was in Germany and Charles Milling was in FL. They were able to join us a couple of times via streaming and pre-recorded videos. Isabel Castellvi, River Guerguerian, Chris Rosser and took up the challenge of live streaming all our music from our "live" on site location at Lutheridge, where we've done our past events. We did maintain social distancing and kept our masks on, as long as we weren't singing.  It is challenging to play with no live audience but we are all getting used to this new format and felt as comfortable in that setting as possible.  Brian Prior was his usual gracious and warm self in his role as MC and chaplain.  Ann Holtz did a stellar job of hosting our "foyer," welcoming folks as they entered the site and keeping the spirit of her generous hosting alive and well.  Thanks to our friend Roberta Daniel for hosting, the after hours sessions! Well done!  Our banners this year were painted by Holly Doll from North Dakota... they were simply stunning.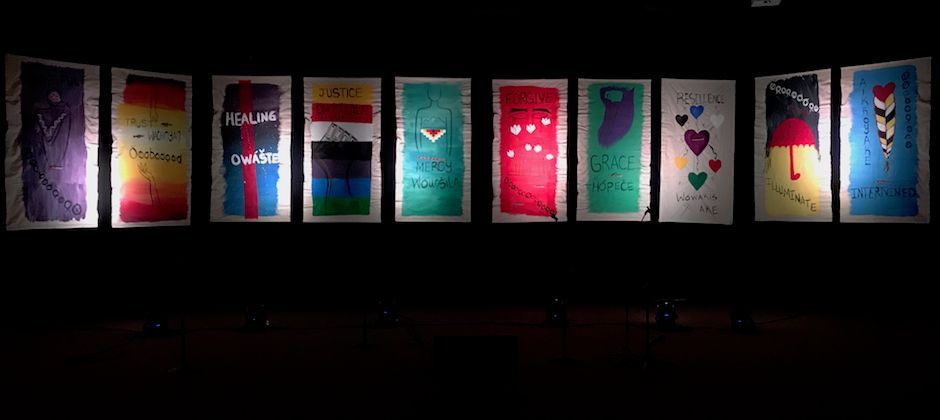 "Rise Up, Be Strong"
My friend and colleague River Guerguerian and I had the opprtunity in 2018 to perform a concert sandwiched in between talks by Senators Cory Booker and Elizabeth Warren.  Their message was clear; don't give up!  Don't demonize the "other side" but name the injustice, stand strong and don't quit!  In response to this challenge I've dropped this single.  All proceeds will go to the Absalom Jones Center for Racial Healing in Atlanta, GA. I'm joined on the recording by the members of the AwakeningSoul Ensemble, Lindsey Blount, vocal, Isabel Castellvi, cello, River Guerguerian, percussion, Charles Milling, electric guitar, and Chris Rosser, keys. Spoken intro by my dear friend Dr. Catherine Meeks. Here's the link. Thanks for your support! Rise up, be strong!
And here's a link to the great video my friend Greg Mulkey has created to deliver the message;
The AwakeningSoul Ensemble  (L-R) Chris Rosser, Isabel Castellvi, Lindsey Blount, Fran McKendree, Charles Milling, River Guerguerian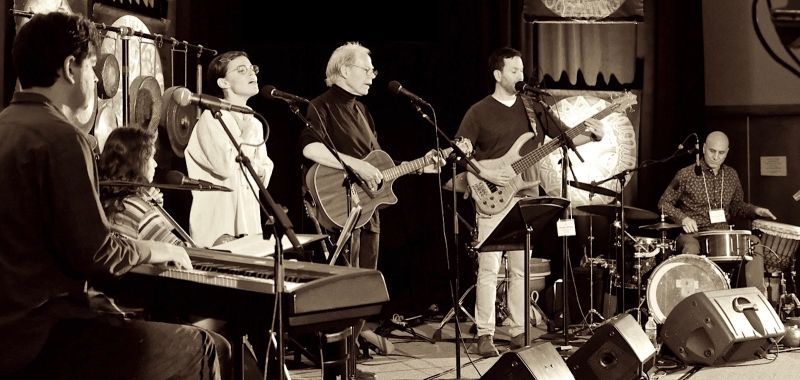 AwakeningSoul...
AwakeningSoul 2019 was amazing! With Jacqui Lewis and Barbara Brown Taylor as our keynote presenters and Larry Maze hosting our 'conversations with' we were all invited to wade into that deep river of discernment, deep listening and presence. We're thrilled to announce and share with you our first "highlight reel" created by Ryan Camp who was with us for the entire event.  If you were with us, I hope this will help you reflect on your experience.  If you were not with us I hope this will give you a good sense of what we are about.
For those of you who haven't been with us before, AwakeningSoul is an uplifting, four day event held every year in early November, in Asheville, NC.  The dates for 2020 are November 5-8.  Jen Bailey (Faith Matters, The Peoples' Supper), Serene Jones (President, Union Theological Seminary, NYC and author) and Brian McLaren (activist, author, public theologian)
We believe that we all need a place, set apart from the busy-ness of our everyday world, to reflect on our journeys. We need to set aside time when we can examine our lives and ask 'what do I believe and how are these beliefs being lived out in my life? Who does my life and work serve?' Our hope is that our AwakeningSoul gatherings create a sacred space where this work of the soul can be done, and that in our coming together we will all be affirmed that we do not journey alone.
For more information and to register, please visit; www.awakeningsoulpresents.org
Here's a video we've put together from our 2018 event:
Here's a comment from a past participant to help you get a sense of the impact of this gathering;
Awakening Soul is an oasis for the soul --- a place for centering and spiritual growth.  I come away from my time there energized by challenging ideas, enriched by beautiful music, and filled with a renewed sense of spiritual possibilities.
~ Pat H.
Here's Rise Up, Be Strong, Times Like These

and a few others on my SoundCloud channel:
Today seemed the appropriate time for this song of hope and encouragement in these incredibly challenging times.
Here's the link:
PAST EVENTS
Sawyerville Summer Camp
Just wrapped up another amazing week with the incredible team that comes together to host this camp and the truly inspiring campers!! The Summer Cool Down challenge raised almost 15,000.00.  Thanks!! You can continue to support the amazing programs that the Episcopal Diocese of AL is doing by visiting https://www.sawyerville.org/
I'm always looking for ways to spread the word about the amazing Sawyerville Day Camp (I'll be there again this summer), and to support their work. To that end, I've made a recording available to download - find it in the 'the shop is open' section a little further along on this page;
'Come By Here' with Allison King Tullos and Duncan Wickel.  All proceeds will go to the Sawyerville Day Camp.
---
McKENDREE SPRING
The DVD we recorded live at Douglas Corner is the last gig that we did together, as we lost our dear friend, the late Michael Dreyfuss. Mike's wife, Elisabeth, passed away not long after Mikey.  We miss them both.
Joining Marty, Mike, Chris and I are lifetime honorary members, Paul Hollowell, keys, and Alan Stoker on drums.  We were also joined by Sharon Slutsky, Carol Anderson on vocals and Rock Hudson on sax. 
Marty and Chris at Casey Wood's Insanery Studio for mastering...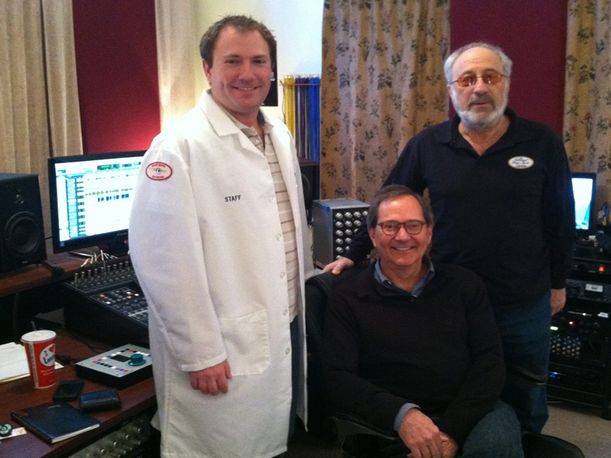 ---
---
The shop is under construction... please come back after November 23... thanks!
Awake ~ a companion for morning/evening meditation
Watch, O Watch, Awake, Sing A New Church, The Storm is Passing Over 
Rise ~ recorded mostly 'live' in the chapel at Kanuga. Charles Milling, producer. 
Come and Find the Quiet Center, Waiting For Lightning, Ring Them Bells, The Skin and Bones of Grace, Blackbird
Come By Here ~ with the beautiful voice of Allison King Tullos and Duncan Wickel on violin.  All proceeds go to the Sawyerville Day Camp.
McKendree Spring ~ Times Like These - Live at Douglas Corner. CD or DVD. Their final show, and the only video recording of the band 'live.'
The AwakeningSoul Ensemble 'Live at Tending the Fire' ~ the ASE performs at the annual AwakeningSoul events in Asheville, NC.  An amazingly soulful and versatile group featuring the incredibly beautiful voice of Lindsey Blount. This 2015 lineup of the ASE is; Lindsey Blount, vocals ~ River Guerguerian, percussion ~ Lily Henley, violin and vocals ~ Fran McKendree, vocals, acoustic guitar ~ Charles Milling, bass,vocals.
Fran and Ana Hernandez!
'Sending You Light' Fran and Ana with;
Billy Cardine, Paul Friesen-Carper, River Guerguerian, 
Ike Sturm, and Dunca
n Wickel
. 
Here's a pic - recording at Teerivane Studios ~ percussionist, River Guerguerian, joined us for a session.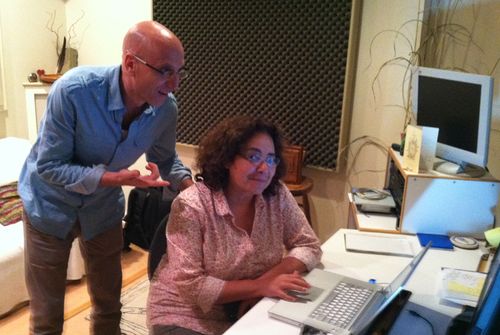 I produced a recording for the immensely gifted Ginny Wilder a little while back. She is wonderful!
---
FROM THE ARCHIVES ~ 2011 AwakeningSoul gathering - here are a few video clips;
Fran with Charles Milling, Duncan Wickel, Lindsey Blount and River Guerguerian doing 'Painting in the Skies'
 And two fun videos of Lindsey Blount, River Guerguerian,  Charles Milling and Duncan Wickel
---
I do hope you'll take a few minutes to visit the 'news' page for updates and click the 'links' to find some other very creative and hardworking groups that are carrying on some important work.  And please visit the music, friends and photo pages, too. 
All the best, Fran
small photo of Fran's Larrivee guitar at top of homepage  by: Ellen Coleman
below by Susan Logan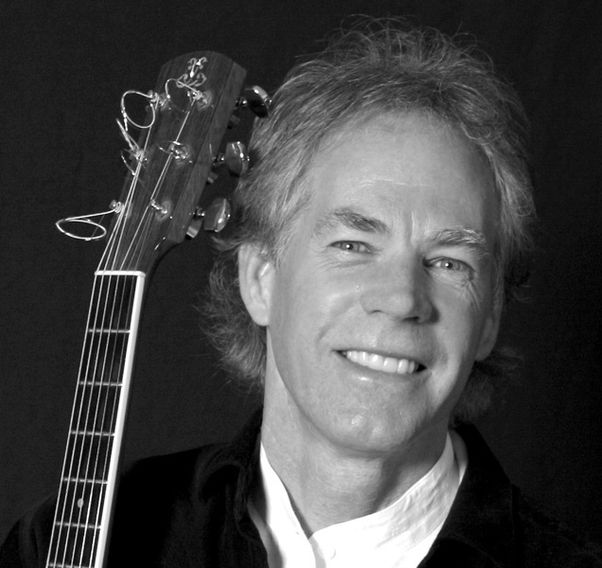 screenshot from the McKendree Spring 'Times Like These' DVD