_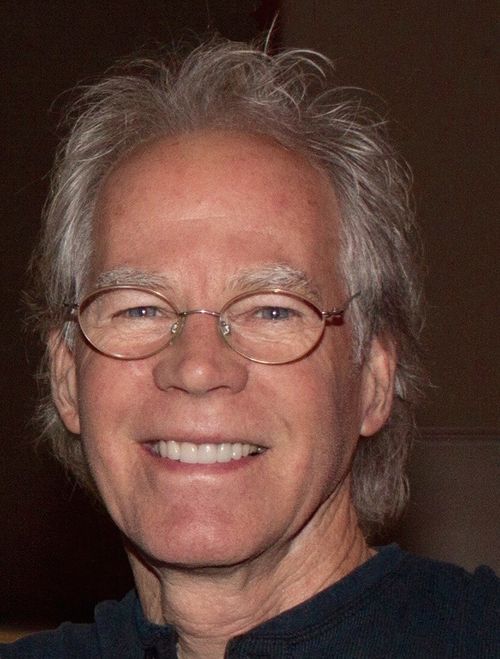 Biography...
Fran McKendree began his professional career playing at coffee houses around Auburn, NY, and Syracuse University. Moving to the Glens Falls, NY he formed "McKendree Spring," a rock ensemble that the legendary manager Bill Graham dubbed "one of the best unknown bands in the world." McKendree Spring developed a loyal following, spending the next six years touring the US, the UK and Canada, doing concerts with Billy Joel, Elton John, Tina Turner and even Frank Zappa. The band played many memorable venues, including Carnegie Hall, the Fillmore East, and with the late Billy Preston, the first ever rock concert at Radio City Music Hall.  With their [tiny, but nice to be included!] exhibit in the Rock & Roll Hall of Fame Museum is an attribution that says: "Experimental and innovative, McKendree Spring mixed blues, folk and country with a progressive musical vision." Following McKendree Spring, Fran signed with Arista Records. He wasn't touring much during this time but did play a few memorable events, foremost among them a gig in NY's Central Park with Jimmy Cliff headlining. Fran was, however, finding this an increasingly challenging time in his life.
Walking around his New York City neighborhood one day, looking for inspiration, Fran discovered a small Episcopal church. The next Sunday he and his wife, Diana, went to see what it was all about....finding an engaging, faithful, mission - focused and artistic gathering of seekers. It was a breakthrough for Fran, opening a new spiritual path which led him to heed the call to take some time for reflection. He and Diana moved to Cape Cod, where, setting aside his music, he began to work with youth, build houses, and make furniture, eventually feeling a deep longing to make music again. Emerging from this soul searching period he began to work under the aegis of the Episcopal church. He has continued to explore and broaden his calling; with concerts, as music and worship leader, designer and coordinator of conferences, keynote presenter, mentor, and workshop leader. He has released six CDs of his own work, as well as producing recordings for other artists at his studio in Hendersonville, NC, where he and Diana now live.
In 2012, with friend and colleague Ann Holtz, he formed AwakeningSoul, a partnership hosting an annual conference embodying 'Sustenance, Sanctuary and Inspiration.'  Fran says "AwakeningSoul is a coming together of all the things I care most about - relationships, trust, soul-searching, inspiring conversation, beautiful music and art, laughter, and a palpable awareness of the presence and nearness of God."  He continues to be awed by the journey that has unfolded.
Much to Fran's surprise he was awarded an Honorary Doctor of Humane Letters degree from the Virginia Theological Seminary in 2016, for which he is most grateful!
WORKSHOPS
Fran's workshops are designed to be engaging, productive, and fun.  In the music workshop he covers a wealth of material; finding songs, presenting new material, group dynamics, space considerations, screen projection, and more.  They typically begin with a few interactive exercises to help folks get comfortable and to discern what it is the group would most like to spend time doing.  The format consists usually of a morning session, with a break for lunch, followed by and afternoon session. Often, if the workshop is on a Saturday, Fran will work with the group to plan and participate in the music for a worship service the next day. 
Fran also works more specifically with groups to improve their performance and song leading skills.  This process usually will involve some recording of the group.
Please contact Nancy Clark for references.
WORSHIP/LITURGY
Fran has recently designed an evening worship program.  The mood, overall, is contemplative; beginning with a few songs sung in community, followed by prayer, readings from Holy Scripture, poems and interspersed with some periods of silence.  Images and prayers are projected.  Ideally the evening service is either proceeded by or followed with a common meal.  Fran typically weaves in a few songs that he performs by himself, but most of the music is sung in community. Whenever possible he enlists the help of a few of the assembly for the poems and readings.
"Your service at Holy Cross Simpsonville last night was a spiritually engaging experience. Everyone left renewed and rewarded. It was a pleasure to meet, talk, and worship with you. please come see us again soon."   Drayton Gaillard  Holy Cross Episcopal, Simpsonsville, SC
Fran as producer - Teerivane Studios

A brief interview with Fran regarding his production work:
Q. How do you work as a producer?
F. So much depends on the artist...is it their first time in the studio, do they want direction or just reliable ears they can trust, does their material need fine tuning [or a chainsaw], are they confident, "first take" kind of folks or do they need to work in a more layered style? So many variations. I tend to work in as "hands off" a manner as I can...I mean...it's the artist's work that needs to shine and be brought out, not my "stamp" or signature. So I usually begin by listening to what they do "live" to get a sense of what they can do, then move from there. We talk through the material, get a concept or overall perspective, then determine what direction we will go taking into account all the other factors involved...time, budget, etc.
Q. What's the most challenging part of the recording process?
F. For most people it tends to be getting an exciting, "live" sounding performance in a studio setting. It's amazing how many first or second takes of tracks are the best, especially for bands that play together a lot, or solo artists that gig consistently. Sometimes, as they begin to finesse things, the feel changes somewhat, and often the original spark that was there is diminished. So it's really important to have a producer and engineer who are ready to go before the artist is...and to capture those first few takes. The producer's call then, is to weigh the things that are not so great in those early takes and could be done better in overdubs or another take, against the energy and feel that might have real magic. And then to get the artist to hear and recognize those and decide, quickly, jointly, whether it's time to do another take or keep what's there and clean things up as necessary. Because there is a finite energy when it comes to recording.. a skilled producer needs to know an artist's limits...and when to say "I think you've got a better one in you."
Q. What's the most rewarding part of recording?
F. Being part of the creative process...helping artists go beyond what they thought they could accomplish...seeing the look on their face when they listen back to something that touches them deeply. Laughing with joy at a truly incredible performance that someone has just done...these moments are pure.
Q. Can you sum up your philosophy as a producer?
F. Very simply, I would use "midwife" as a metaphor. The midwife has a relationship with the person who's doing the birthing...guiding them through the difficult, painful parts, helping them learn to push themselves...not pushing for them, and helping to create a safe, relaxed environment with the best support staff possible so that the artist, in this case, can give birth to something they will be thankful for, proud of...something that is representative of the very best they can offer. To then share in and celebrate the joy and, most importantly, recognize that you [the producer] are just a helpmate in this project...it's the artist, the process and the finished recording that ultimately must walk out on their own.
The Studio
At Teerivane [teer- ih- vahn] our goal is simple: help our clients achieve the dream they walk in the door with...and more. We recognize that each client/artist is unique, with varied needs, experience, expectations, skill level, hopes, and budget. We want our clients to have a fulfilling, comfortable, exciting and rewarding time while working on their projects. Our experienced staff and thoughtfully designed studio space combine to create an environment that instills confidence and inspires creativity and productivity, in the midst of some of the most beautiful scenery in the country.
Studio owner and producer Fran McKendree has been in the music business for over 40 years. He was a founding member of the innovative group McKendree Spring [whom the late Bill Graham called "one of the best unknown bands in the world!"] and continues to write, perform, design and lead workshops, as well as engineering and producing recordings of his work and that of other artists. Having been on both sides of the glass [artist, producer and engineer] with a passion and deep love of the creative process, he brings to Teerivane a wealth of experience and the ability to bring out the best in artists, specializing in the acoustic music genre.
The musicians and engineers Fran chooses to bring in on projects have years of experience working with the some of the best artists in the business, and help create a "can do" atmosphere of support and skill that nurtures and enhances each project... in a relaxed environment where spontaneity and "feel" are honored. Teerivane's recording/editing and monitoring equipment is state of the art; hard disk...reliable, great sounding and fast. We have a quality selection of microphones and other gear and a quick, affordable and reliable rental service if we don't have the particular piece of gear you'd like.
Our rates are reasonable and competitive, with block booking discounts available. We have an arranger who can write charts quickly and accurately. We can also guide your project all the way through the mastering and manufacturing process through our partnership with world class mastering and duplication facilities. We have a very creative graphic designer who can do wonders with artwork. We believe in having fun while working, too... there are beautiful lakes, waterfalls and hiking trails in the surrounding area, in fact you can walk out of the studio and directly into the woods when it's time for a break.
Accommodations, reasonably priced, are available in nearby Hendersonville, with many B&B's and hotels to choose from within 15 minutes drive of the studio. Special, discounted rates may be available to clients, depending on the length of stay and time of year. We will never let you walk away dissatisfied...we believe that every project deserves the absolute best we can bring to it. Our commitment to you is to never settle for something that is not the best work you, and we, can do at the time.
For further information about Teerivane's availability, or to speak with Fran regarding his production work at Teerivane or other studios, please call or email our office/studio manager, Nancy Clark: 828-658-1527 nancyclark@franmckendree.com.